i have hundreds of little pages scattered about the floor. the books are almost done. entitled "the anthology of alphabetical alliterations". they should be cute when done. we leave at 3 in the morning, thurseday, well friday i guess. if you want to get right down to it. i will spend the rest of the day painting, and the rest of the night swimming in the ocean. maybe watch a hungarian film. or write backwards some more. once i get home from this convention i am going to start writing more stories so i can make more books. i am thinking a 50's beat style for one. burroughs used to write, then cut up his work and put it back together. i could do that, with text and image. maybe i will. no, i will. yes. for certain.
i am excited for the dirty motel. 1.5 stars....fantastic.
my work space is getting out of control. this is what it looked like a week ago.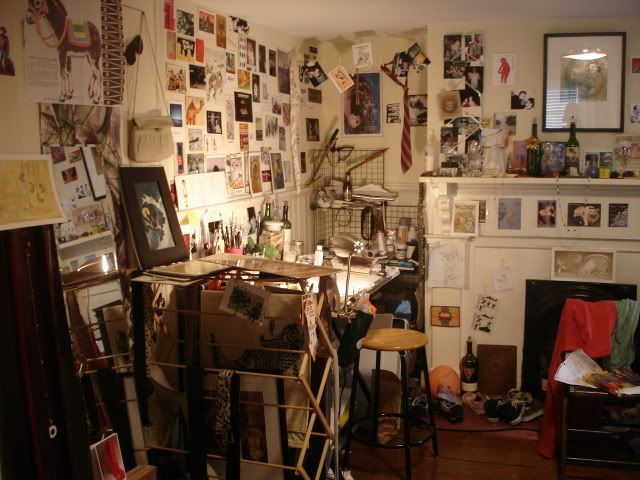 now it is 10 times worse, tiny pages, brushes, ink, glue, needles and thread, jars full of shredded paper. everywhere. it is aweful. but then again, bacon's studio was far worse and he was amazing. but also an alcoholic. ahh yes.
here is one more drawing.